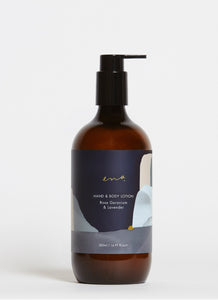 Rose Geranium & Lavender Hand & Body Lotion
Ena
Regular price $44.00 Sale
This nutrient rich and
 luxurious mix of plant based, all natural ingredients and 100% genuine essential oils, is formulated to nourish and protect your whole body. Containing no nasty chemicals to enable the skin to readily absorb and moisturise.
The main properties of the Macadamia & Sweet Almond Oils are that they rehydrate and firm the skin.
The Sweet Almond oil is also a natural exfoliant allowing ease of hydration. Added to this is the natural antioxidant and emollient factor of Cocoa Butter. The list of benefits for Rose Geranium & Lavender essential oils are long and impressive. Here are just a few… skin tightening, antibacterial, antimicrobial, vulnerary (helps the healing process of cuts & wounds), cicatrisant (helps fade scars & spots on the skin), cytophylate (encourages regeneration of new cells), diuretic (i.e. detoxifying), deodorant, adds tone to the skin, uplifting & calming to the spirit.